Flytec Balloon 4
The Flytec Balloon 4 is the newest vario, dedicated for ballooning, built for balloonists. It is the successor of the well-known Flytec 3040 and Flytec 6040. Specially developed with only the required functions built-in, for easy use without having to read a manual.
The Flytec Balloon 4 has fast and precise GPS reception, and to measure the envelope temperature, the Flytec Balloon 4 is compatible with recent Flytec TT34 transmitters (ask for more info). The robust and reliable instrument is fitted with a, especially in direct sunlight, good readable display. The high precision and sensitivity of the pressure measurement improves the reliability of the altitude and climb and sink rate. Also the battery life is optimized, for longer use.
Functionality
• Alititude (in m, ft, FL)
• QNH
• Climb / sink rate: graphic, numeric, configurable audio for both directions (in m/s and fpm)
• Ground speed (GPS speed, in km/h and mph)
• Course, on compass and in degree
• Distance / direction to launch (distance in km and miles)
• Envelope temperature from Flytec Balloon TT34 (in °C and °F)
• Flight recording in Google Earth format, with key maximum / minimum values, and in IGC format
• Rechargeable batteries (can be substituted with regular AA batteries if you forgot to charge)
Other nice features
• One button press to adjust QNH
• Built-in display protection, easy to replace by a repair center
• Keyboard easy to replace by a repair center
• Casing: improved from 6040, robust and nearly indestructible
• Built-in safety lanyard
• The GPS uses four different satellite systems for an unprecedented accuracy: GPS, Glonass, Galileo and BeiDou
• Flight memory for over 10'000 hours, accessible directly via USB (comes up as a drive, no additional software required)
• Battery charging through USB, any phone charger will work
• 2 years factory warranty on production defects
• World-wide network of repair centers to take care of your Flytec, even once warranty has expired, or for cases not covered by warranty
• In case of defects, all components can be replaced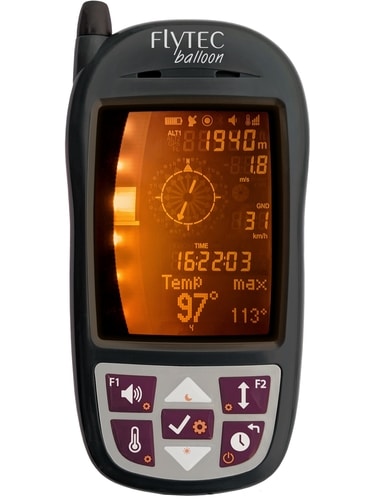 Flytec Balloon 4 Night Glow
The Flytec Balloon 4 Night Glow is the first commercially available ballooning vario with built-in backlight. A beautiful warm amber glow is the perfect match with your burner flame, and gives you the ability to read the values on your vario in any situation - either on that take off before sunrise, a flight towards the sunset on a serene evening, or in the middle of the night in your gas balloon anywhere in the world.
Existing Flytec Balloon 4 can be upgraded with the Night Glow option, please contact us for details.
Click here to find more detailed information on the manufacturers website.
€ 1,849.00 incl 21% VAT[*]
€ 1,528.10 excl 21% VAT[*]

[*] VAT will be charged always - unless you are outside the European Union or a VAT registered company in any country of the European Union, except The Netherlands.
All shown prices are excluding shipping costs. Shipping costs will be quoted with the possibility to cancel your order. All orders should be paid in advance, before shipping. Payment can be done by IBAN bank transfer - other payment methods can be discussed. No refunds or cancellations possible for specially ordered items. Some, but not all items are available from stock. If not in stock, the delivery time depends on stock / availability at the manufacturer.