OK-9650 Cameron Z-160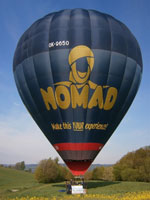 OK-9650, Cameron Z-160, built 2004, 593 flights, 648 hrs. Hyperlast top (which was replaced at 50 hrs), RDS, turning vents. Turning vents have been replaced in 2018 by Cameron Bristol. Cameron CB-991/F single T basket, black suede top rim, side wall padding, cushion floor, fire extinguisher, drop line. Cameron Sirocco double burner, liquid pilot lights, REGO fittings, in frame with metal heat shield. 4x Schroeder VA50 cylinders, built 1998, approximately 700 flights/hrs. REGO fittings, master, red cover, PRV/PPT/INT valid until 2020. In top condition, inspected by Cameron Bristol. ARC valid until 03/2019, can be sold with fresh ARC.
Scoop for Cameron C-80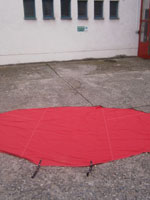 Scoop for Cameron C-80, red nomex, only used for 1 flight, in as new condition.