Single axle 2.5m Anssems trailer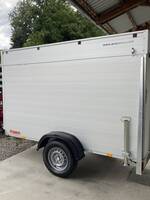 Single axle 2.5m Anssems trailer, built 2022, only used for approximately 2000 km on the road. Inside dimensions 2.51m x 1.26m x 1.53m. Liftable roof, ramp on back. Max total weight 1.200 kg, empty weight 341 kg, max load 859 kg. Floor is made of multiplex, sides made of aluminum. 2 support legs, 2 handles on front, support wheel, non-slip wooden floor. 13-pin electricity plug. Ramp and roof can be locked and opened separately, ramp can be removed. Lashing eyes on inside.
Envelope transport cart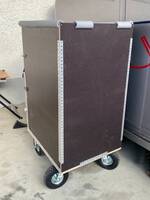 Envelope transport cart, box size 1.20m x 0.85m x 0.70m, total height 1.60m. Suitable for max 2.000 / 2.200 m3 (70.000 / 77.000 ft3) envelope, built of composite wood (19 and 21mm) with flap in front to open. 4 large pneumatic tires, 2 large rings to add rope for easy pulling, sanded edges to prevent damaging the envelope, lined on inside.