STOLEN: OE-ZAD Schoen Neptun 2500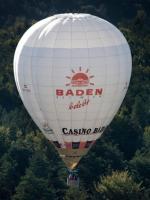 STOLEN: During the night from November the 13th to 14th 2010, the next balloon has been stolen from a locked industrial area in Vienna, Austria, together with 2 other balloons. One trailer has been stolen as well, the other balloons have been packed out of the trailers.

Envelope:
OE-ZAD, Schoen Ballon Neptun 2500, CN S-010/5/93.

Basket:
Thunder & Colt, Colt 65/77, CN unknown.

Burner:
Cameron Balloons MK4 Super, CB579, CN S1425-S1426.

Tanks:
Cameron CB 599A 4075-2691,
Cameron CB 599A 4075-2692,
Cameron CB 599A 4075-2693,
Cameron CB 599A 4920-3086,
Cameron CB 599A 2085-2656.

Fan:
Unknown

If you have any information about this theft, or if someone offers you any of this equipment, please contact Balloons4sale.eu through info@balloons4sale.eu.
Listed in category Stolen Equipment since 15-11-2010
.