STOLEN: PH-MMG Schroeder Fire Balloons G 45/24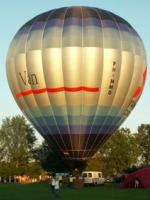 STOLEN: During the night from September the 21st to 22nd 2008, the next balloon has been stolen in the area of Utrecht, the Netherlands:

Envelope:
PH-MMG, Schroeder Fire Balloons G 45/24, CN 780.

Basket:
Cameron Balloons CB 303, CN BH634.

Burner:
Cameron Balloons CB 2075-2, CN B123 / B124.

Tanks:
Cameron CB 599 1731-5514,
Cameron CB 599 1731-5516,
Cameron CB 599G 1548-5455,
Cameron CB 2088 0729-5253,
Cameron CB 599 0729-5255.

Fan:
5.5 HP Honda inflation fan

Until now, none of this equipment has been recovered.

If you have any information about this theft, or if someone offers you any of this equipment, please contact Ron Hoenderdaal (+31- (0) 0346 - 212963) or Balloons4sale.eu through info@balloons4sale.eu.
Listed in category Stolen Equipment since 22-09-2008
.