G-RFLO Ultramagic M-105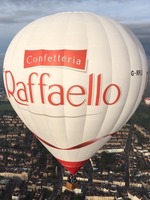 G-RFLO, Ultramagic M-105, built 2015, 8 flights, 20 hrs. Hyperlast top (5 rows), RDS, turning vents. Artwork digitally printed, can stay. ARC expired, new ARC/CofA for export to be issued on sale.
£ 12.750,- excl VAT if applicable
Contact:
Dave Groombridge
Bristol, United Kingdom
send message
Listed in category Envelopes since 22-03-2023
.