Vertex Standard VXA-300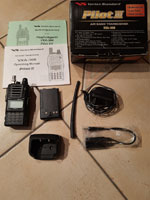 Vertex Standard VXA-300 airband transceiver. 25 kHz channel spacing for transmitting, 8.33 kHz and 25 kHz channel spacing for receiving. VOR and CDI navigation. Comes with charger, battery, antenna and headset adapter Used but in good working condition.
Advertisement has been deactivated.
Listed in category Instruments since 30-12-2020
.