4x pole cover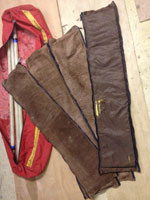 4x pole cover, brown leather outside, some small damages to inside lining (catched by the zipper, causing rips). Cosmetic damage only, not visible when zipped. Clips on top for burner frame. Poles and bag are not included.
Advertisement expired.
Listed in category Other equipment since 13-12-2018
.