4x pole with cover in bag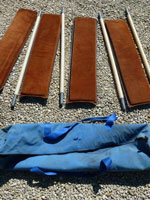 4x pole, 1.03m long, 85.4cm of thicker pole length between the narrower stubs. 4x pole cover, brown suede, undamaged suede and zippers. Light blue lining, 3 are perfect, 4th one has a small mouse hole in it. In blue bag with few holes, but zipper works properly. Last used on a Cameron 77 basket.
Advertisement expired.
Listed in category Other equipment since 14-05-2018
.