LY-TON Cameron A-400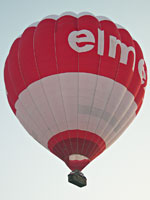 LY-TON, Cameron A-400, 1999, 174 hrs since rebuilt by Cameron Balloons Bristol in 2004 (loadtapes and crown ring are original). Smart vent, turning vents. 2 rows of nomex, all the rest is Hyperlast. Artwork sewn in. Ready to be inspected, but no valid ARC included.
SOLD!
Contact:
Laurynas Komza (
show all 2 items of this user
)
Vilnius, Lithuania
+370 - (8) 626 - 66766
send message
Listed in category Envelopes since 19-09-2017
.