G-ISOB Cameron O-31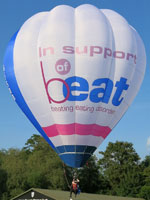 G-ISOB, Cameron O-31, built 10/2016, 4 flights, 4:00 hrs flown, 1 hrs tethered. Envelope weighs 33 kg including bag. Artwork can stay. ARC expired. New ARC or export CofA and shipping can be arranged for additional cost.
Advertisement has been deactivated.
Listed in category Envelopes since 13-06-2017
.