G-OAER Lindstrand LBL 105A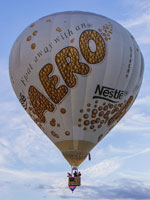 G-OAER, Lindstrand LBL 105A, built 1996, 230 hrs. Hyperlife parachute + 3 rows. Turning vents. Currently downrated to MTOM 999kg for insurance purposes. Usually flown with 3 persons on board, still flies well. Now for sale as surplus to requirement. Recently inspected, ARC valid until May 2018.
Advertisement expired.
Listed in category Envelopes since 22-05-2017
.