G-CDMC Cameron Z-105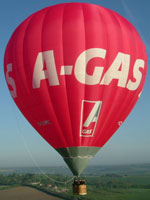 G-CDMC, Cameron Z-105, built 2005, 156 hrs, tethered 8 hrs. Turning vents. Last regularly flown in 2014, 6 flights since, not flown since 2017. Tempi label reads 110 degrees. Artwork can stay. One owner since new. All in excellent order, no dirty marks, no damages or repairs. Immediately available. Will be sold with new ARC.
SOLD!
Contact:
Nigel Appleton
Bristol, United Kingdom
+44 - (0) 783 - 6359828
send message
Listed in category Envelopes since 17-12-2015
.